69 Johnson Street • Lubec, Maine 04652
Office: 207-733-4400 • Cell: 239-571-0208
Judy & Victor Trafford -- Innkeepers
Contact us: TheInnOnTheWharf@aol.com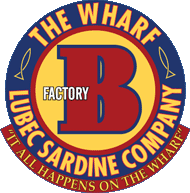 Take a Whale Watching tour while in Lubec, Maine. The Inn on the Wharf's boat Tarquin seats 26 with inside and outside comfort. Check with the front desk for tour times and availability.
Our captains tour, which leaves from our Wharf in Lubec, will show you whales, share sea stories and visit seals, eagles and lighthouses. (Weather Permitting)
The Wharf is part of a working waterfront. Tie up at our wharf and enjoy dinner at our restaurant, Fisherman's Wharf. Indoor, winter boat storage is also available. Fuel can be purchased from The Wharf.
Launch your kayak. Take the town Water taxi to Eastport for shopping and dining. Rent a bike or walk into town where gift and art galleries await or taste fine chocolates at one of our chocolate shops. Dine at one of several restaurants.
DISCLAIMER: By clicking on the links, you will be directed away from TheInnontheWharf.com to another Website. The owners of TheInnontheWharf.com do not review or
control the content of the sites to which the links connect. Therefore, these links do not constitute an endorsement by the owners of TheInnontheWharf.com.
© 2016 TheInnontheWharf.com | Contact Us